En estas fiestas y teniendo que hacer regalos me surgió la necesidad de hacer un sobre de regalo para una tarjeta pequeña y tenía que ser a medida, claro.
Hello everybody!
At this Christmas time I had to make an envelope for my gift-card, and it had to be custom-made, of course.
Así que me puse manos a la obra:
1º.- Medí la tarjeta que quería envolver. Su parte más ancha medía 8,5cm:
So I get on with it:
1º.- I measured the longest card side: 8,5cm
2º.- Así que corté un cuadrado con el doble de esta medida: 17cmx17cm:
2º.- So I cut a square, every side measured double: 17cm
3º.- Le damos la vuelta al papel y lo ponemos en forma de rombo para tomar los vértices de arriba y abajo de referencia:
3º.- Place your paper face down on your table like a diamond in order to have the angles as a reference:
4º.- Doblamos hasta la mitad, es decir, hasta ese punto imaginario entre el punto superior e inferior:
4º.- Fold in half the right side:
5º.- Doblamos la otra mitad:
5º.- Fold in half the left side:
6º.- Doblamos a 1 cm aproximandamente de la parte de abajo del sobre:
6º.- Fold 1cm from the bottom of the envelope:
7º.- Doblamos

el pico superior hacia nosotros hasta donde empieza el papel:
7º.- Fold the angle you have until your envelope paper starts:
8º.- Doblamos esta pieza hacia adentro y pegamos con pegamento de barra por el interior, pegamos, además, la zona sombreada que vemos a continuación:
8º.- Fold this last piece to inside and glue with a glue stick, we also glue those bold zones:
Y ya tenemos nuestro sobre terminado!
Os lo dejo ahora a cámara rápida, para que veáis lo fácil y rápido que lo podemos hacer:
And we already have finished our envelope!
Now I show you a quick view, you will see how easy and fast we can make it: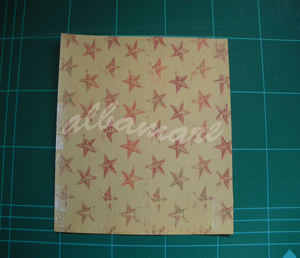 Espero que os haya gustado y os sea útil.
Gracias por pasar y comentar.
I hope you have liked it and it has been useful.
Thank you for your visit and commenting.